PROFILE
 PROFILE 
Violin: Kanako Yanagida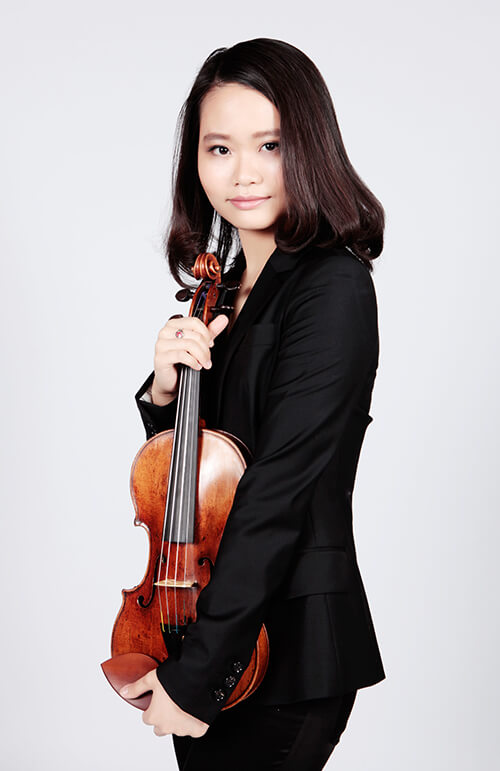 Born in Tokyo, Kanako Yanagida began studying the violin aged 2 in Tokyo following the Suzuki method. She later continued her studies in High School attached to the Tokyo National University of Fine Arts and Music. In 2009, she entered Tokyo National University of Fine Arts and Music. In 2010, she moved to London to study at the Royal Academy of Music and completed her undergraduate/postgraduate studies under mentorship with Prof.Gyorgy Pauk, graduating 1st class in 2016.

Regarding the record of awards, she won the first and second prize in the 55th and 58th All Japan Student Competition in 2001 and 2004 respectively, and performed as a soloist with the Tokyo Symphony Orchestra in Tokyo Metropolitan Theatre and Suntory Hall at the age of 11. In 2009, she was a finalist in the All Japan Music competition, and performed with the New Japan Philharmonic Orchestra. In 2010, whilst at the University of Japan, she was awarded a Fukushima Music Foundation Scholarship for the best performance of the year. Whilst at RAM, she has received the following awards: in 2011, the J. Water House by the Royal Academy, and the DM Lloyd; in 2012, the Isabel May Walton; in 2013, the Hope and Pryor and Woodgate Award for the best performance.

She has participated in a masterclass with, among others, Maxim Vengerov, Ning Feng and Owen Trio, and master course such as Cambridge International String Academy, London Master Class, Bartok Festival in Hungary etc.

In April 2016, her debut recital met with great success at Ginza Oji hall and she also made her concerto debut with Tokyo New City Orchestra at the Tokyo Metropolitan theatre in November.

She was recently selected as a member of the Suntory Chamber Music academy and is appearing to be given more opportunity to play as violinist of TRIO MUSICA in public.

She has been given guidance from Prof.Gyorgy Pauk, Prof.Oleh Krysa, Prof.Konstanty Kulka, Prof.Gerald Poulet, Prof.Kazuki Sawa, Takako Yamazaki and Yukiko Ogawa.